Fun lip colors display student confidence
Hang on for a minute...we're trying to find some more stories you might like.
Bright lip colors used to be a thing that was only viewed as appropriate at formal events. If they were worn anywhere else, one was trying too hard or looked over dressed. Lately, they have been popping up on faces all over town. A fun color like orange, plum or red can spice up even the most simple make up look and girls from 13 to 30 have been obsessed with wearing the brightest and boldest  lip products they can get their hands on.
One appeal of this new trend is that it makes girls feel like they look unique, and different from everyone.
"Wearing bright or bold colored lipstick makes me feel so much more outgoing," said Emma Constant ('17). "It is hard to make your makeup look different from everyone else's without going too far, and by wearing a color like orange on my lips, I look unique without doing anything too drastic."
Another reason girls have been attracted to this new trend is that there is not one certain way to wear it. It's versatile.
"One of my favorite things about bright lips is that there is not a certain color family you have to stay within. There is everything from coral to orange to purple to blue to every color you could imagine," said Constant, "The more common it is becoming, the more outgoing people seem to be with their color choice. I have seen girls walking around with metallic silver on their lips. I think that is the most unique I have seen so far. But I have also seen blue, plum orange and almost every other bright color you can think of," she added.

About the Writer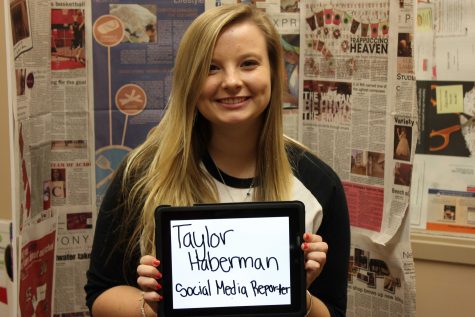 Taylor Haberman, Social Media Reporter
In her free time, Taylor can often be found outside in nature. Walking, hiking or just enjoying the outdoors with one or more of her friends. Other interests...