'Star Tribune' Rock Critic shares music knowledge with students
Hang on for a minute...we're trying to find some more stories you might like.
The Star Tribune is the largest newspaper in Minnesota for news, information and community events. It is read by 1.4 million adults every weekend. Jon Bream began writing about popular music for the Minneapolis Star Tribune in 1974.  He has interviewed the King of Pop (Michael Jackson), the Queen of Soul (Aretha Franklin), Prince, Bob Dylan, U2, three Beatles, four Rolling Stones and all of Maroon 5. 
Bream started off writing for the University of Minnesota Daily when he was in college. Bream interned at the Minneapolis Star Tribune for a year before he got the job. Bream earned a journalism degree from the University of Minnesota; he has also been recognized as an outstanding alumni of the University's College of Liberal Arts. He is the author of the best-selling unauthorized 1984, biography "Prince: Inside the Purple Reign." He is widely considered the expert on Prince since he has covered him from day one.
After attending over 6,000 concerts, a few artists have stood out to him throughout his 41 years of critiquing popular music. Among those artists are Garth Brooks, Bob Dylan, Gene Simmons, Prince, Paul McCartney, Taylor Swift, Toby Keith and Jay-Z. The reasons why the artists have stood out to Bream varies vastly.
 Garth Brooks has stood out to Bream because he is a smart artist in more ways than one.
 "He sells sincerity to his fans. When you see him in concert, he has the ability to touch their heart even if you are on level 200 at the Xcel. He makes eye contact with people. He has amazing commitment to his fans. One time at a Fan Fair in the 90's, he stood there signing autographs for two hours, spending one minute with every fan. He will also give three or four minutes to everyone that wants to interview him," said Bream.
 Bream continued, "He saved a lot of money Nov 6-15. He only had to set up the stage once, and take down once. He performed 11 shows over 10 days. Garth also is very smart about the tickets, with each ticket costing no more the $70, he is able to bring in more fan which is a smart artist.  He has a very good memory. He remembered the conversation that I had with him four weeks prior in Jacksonville, Florida. Garth had sold more albums than any artist since 1991."
"
Taylor connects with her fans more than anyone else. When she was on Ellen, she brought in videos of her cats so her fans could see. Taylor has a new angle for every TV show she goes on. She also put a three-track bonus on her new album, if her fans bought it at Target."
— Jon Bream
 When it comes to Taylor Swift romance, Bream knows she is not very smart with her boyfriends but makes up for it with the way she connects with her fans. With her last album, 1989, she invited over 89 people to each of her five houses for a private show. She also sent gifts to her fans for christmas with her album, clothes, pictures and of course, a little letter included.
 "Taylor connects with her fans more than anyone else. When she was on Ellen, she brought in videos of her cats so her fans could see. Taylor has a new angle for every TV show she goes on. She also put a three-track bonus on her new album, if her fans bought it at Target," said Bream.
 Another country singer on his list was Toby Keith. According to Forbes Magazine, Toby has averaged an amazing $48 million for the past five years, which is better than any country artist.
 "It is an amazing thing because most of the money he was making was because he was doing nothing. Toby has a Ford Endorsement, a chain of restaurants including one in St. Louis Park, owns his own country club and has a line of alcohol, called "Wild Shots." Also Toby was very smart with investing because he owns 10 percent of Big Machine Recording Company, which has signed people like Tim McGraw, Taylor Swift and Rascal Flatts," said Bream.
 The wealthiest person of the title "smartest artist in the industry" Bream has met over his 41 years is Paul McCartney. He is worth a little over one billion dollars. He owns 25 copyrights, and owns copyrights to plays such as Annie and Grease. Bream even has once smoked pot with him during an interview.
 "Paul still tours, but sells his tickets for $250 per ticket, which is pretty steep. The one flaw about Paul is that he didn't understand publishing that well in the beginning. He did not get any rights of the Beatles songs. Paul once said it was his biggest mistake letting go of the right to the Beatles," said Bream.
 All of the artists are great artists and are well-rounded. One of Bream's favorite artists is Prince because Prince was the first artist to sell products online, which is very creative way to market his music. Prince was the first artist to have his audience get a free CD when they went to his concert (2004).
"Another genius CD give away was with a newspaper in London called the 'London Mail.' He gave away an accumulation of one million in a day back in 2007. He is always looking for an alternative way to create business," said Bream.
 Bream has learned a lot about music over the past decade. He describes that music is basically one of the most powerful ways of expression. It is a universal language. People learn how to express themselves. Listeners understand themselves, and it makes them feel like someone else understands them, it is like sharing thoughts with community and we learn more about ourselves.

About the Writer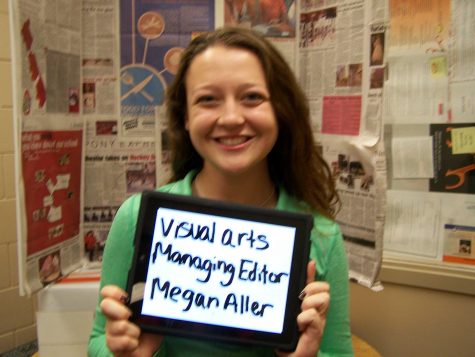 Megan Aller, VAME Manager
Megan is ready to graduate this up coming spring and eager to become a Nebraska Husker, fall 2015. She is a second year returning student on The Pony Express;...