Rand: role of sports reporting evolving image of athletes
Hang on for a minute...we're trying to find some more stories you might like.
The sports reporting world has taken a curve ball the past couple years according to Star Tribune's digital sports editor, Michael Rand. The rise of social media has impacted how sports and athletes are covered and perceived in the public's eye.
According to Rand, sports reporting previously consisted of simply going to the event, taking notes, going back to the office, sitting and relaxing for a few hours and then writing the story for the publication. Nowadays, it is much more action filled with going to the event, tweeting about the atmosphere and quotes from the athletes, taking a video to post on the website and then writing the story.
Rand said that people take technology for granted now, which isn't necessarily a bad thing.
"What social media has done to reporters has sped us up," Rand said. "It's made me think how we cover things now and what access we have to resources nonstop. Sure, it's a lot more action filled but it is a lot more exciting."
Social media has been a way for athletes to be in their comfort zone and say things that give them more personality and freedom opposed to a blunt answer.
Rand said, "Athletes are humans. You get them in front of 100 people and they are diluted, nervous and more guarded with their information."
Rand's job has given him the opportunity to go experience what the players are really like when not being interviewed on the spot.
"My most favorite things that I've covered haven't been about famous athletes or status or anything. It's been about access and seeing athletes when they have their guard down. You're able to peel back and get the best information from them," Rand said.
In 2002 and 2009, Rand was assigned to exclusively cover Tiger Woods at the PGA Championship.
"
Athletes are humans. You get them in front of 100 people and they are diluted, nervous and more guarded with their information."
— Michael Rand
Rand said, "Everywhere he went I went. His scandals back then made everything a lot more interesting. I was able to see things as simple as him eating a sandwich. It made me realize these guys are not just gold robots trained to do certain things. They are actual human beings."
The settings after games are much different than previous years.
"A game more than five years ago led me to a thought," Rand said. "The bigger the event these days, the less true access we seem to get from the athletes. To see what goes on. The emotion. The pep talks. The coaching. Interviews now are very controlled and in a press conference type setting."
Which is why Rand thinks that Twitter is the answer to all of the monotonous interviews.
"In interview settings, questions are fired from left and right. The athletes can craft the message they want to get out. But, the great equalizer now is Twitter because on Twitter athletes are extremely unguarded in what they say."
Athletes who post things on Twitter can be both a good thing and a bad thing.
Rand said, "You get a lot of athletes who are just regular people on Twitter and it is an interesting dynamic when they let their guard down unlike in an interview. If they can harness that power and not use Twitter for evil, then they will most likely be perceived in a non-harmful way."
The way that social media has impacted sports reporting has benefitted the players. Five or six years ago when SAHS grad and Minnesota Twins pitcher Glen Perkins first started his professional baseball career, he was not very liked and his personality clashed with the team.
Rand explains, "He was arrogant maybe, not a bad person, but whatever he wasn't doing to protect his personality with members of the media was creating this persona that this isn't a person who is very popular with his team. Not just because of Twitter, but his presence on social media has turned a 180 with how he was able to express himself. He became the kind of person who understood the power on twitter without being a jerk."
The power of good on Twitter has impacted what makes the athletes not just a player but a fan favorite.
Rand said, "Perkins is a totally different person than what you would have perceived five years ago."
In Rand's opinion, the downfall of Twitter is that judgments are made without background information. There's not a lot of checks and balances on Twitter, but it's a way to have a better understanding of athletes.
"The larger point is to me, that the access that we have to athletes has changed a lot, and so is the way we tell stories, and the rise of technology,social media and the way things are communicated right now has a lot to do with that," Rand said.
Sports reporting is best when it is really good or really bad because there is always a good story to tell. Rand focuses on not the lighter side of sports but the unexplored part of the story and bringing attention to things that are not necessarily recognized.
"You don't root for or against the team, you kind of root for the story," said Rand.

About the Writer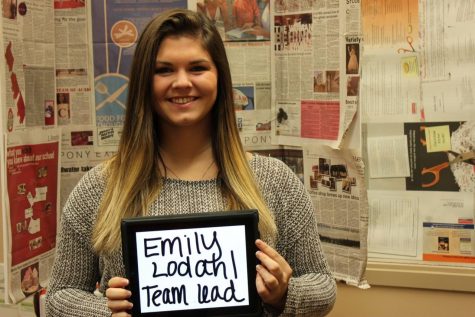 Emily Lodahl, Team Lead Editor
Emily Lodahl is a senior team lead editor for the Pony Express. She has been in newspaper since eleventh grade and loves every minute of it. She has played...