Students travel to the past through antiquing
Ali Thul, Team Lead Editor
February 17, 2015
Photo by Ali Thul
Brasch explains, "The experience is fun. I find it breathtaking to walk into an antique shop. I am immediately overwhelmed with my curiosity as my imagination runs into every corner of the shop, thinking about who used to own this and what kind of story I could give it. The past is the path we do not often revisit, but to bring the past to life once more is an entirely exhilarating experience."
Antiquing is a prevalent in Stillwater's culture. Look at downtown Stillwater for example, there are countless antique shops that hold treasures inside. Students are antiquing more and more due to more students realizing the benefits of antiquing.
Antique shops hold antiques which are items from the past that usually reflects upon historical times. For example, dolls often represent the fashion and beauty standards of a time period.
When people buy new items, there is a likelihood that someone else will have the same thing. With antiques, one can buy a unique and vintage item that they'll never see again. The benefits of antiquing are becoming more aware by students.
Junior Aly Brasch said, "Antiques hold a mystery and have a unknown story that lets your imagination run wild."
Antiquing is not only about having unique items. It's an experience and a fun activity that is loved by many.
Brasch explained, "The experience is fun. I find it breathtaking to walk into an antique shop. I am immediately overwhelmed with my curiosity as my imagination runs into every corner of the shop, thinking about who used to own this and what kind of story I could give it. The past is the path we do not often revisit, but to bring the past to life once more is an entirely exhilarating experience."
Antiques are timeless. Things are always coming back in style in a continuous cycle. This is what makes antiques so attractive to people, because antiques are authentic, yet trendy.
Cathy Hilgart, an employee at Staples Mill Antiques, elaborated, "Things keep recycling through the years. You see some designs that are recycled. For instance you see styles from the 40's to 50's that are now considered modern, where when I was a kid in the 60's those styles were considered "old fashioned."
Not only do antiques continue to come back in style, lately it is more popular to own antiques, making antiques in style.
Brasch stated, "I think students have gained an increased interest in this activity because of the additional increased fashion popularity in wearing vintage items. With the creation of Pinterest, this vintage fashion has spread at an accelerated pace, which is why so many students, mostly female, have gone to antique stores. This can range from knick knacks to decorate one's room, to vintage clothing and jewelry. Plus they learn that the experience is fun as well."
Everyone has at least one unique interest that most do not possess. For many, antiques are a way to collect items that reflect their interests. For example, baseball cards or old newspapers.
Hilgart claimed, "Each person is different but the commonality of all of us it that we like to get out there and find something, dig through things and see what we can find."
Antiquing is becoming a roaring activity for students to embark upon. All should try this interesting experience to see what unique items they can find.
Brasch encouraged,  "If you enjoy getting a nostalgic feeling or discovering hidden treasures, you will definitely find joy in antiquing."
About the Writer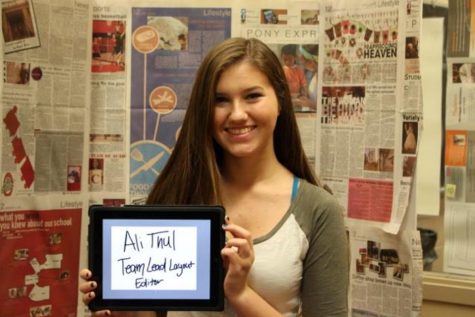 Ali Thul, Team Lead Editor
Ali Thul is a junior team lead editor for the Pony Express. Ali has been playing the violin for six years, and plans on pursuing it in college as well....