Crimson Horizon making some noise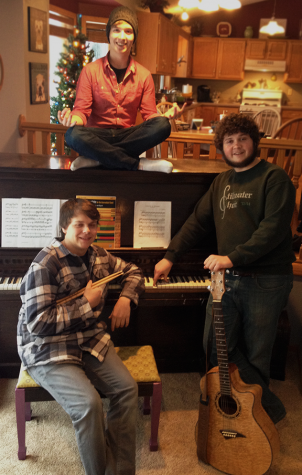 Colin Peters sits next to the Stillwater Caribou Coffee fireplace flanked by a man and a woman known as "The Entourage", all sporting different types of outlandish sunglasses. He looks like a teen struck by local stardom. Peters certainly was used to and prepared for an interview for the high school publication, as this is not the first time he has been interviewed for a news outlet.
Crimson Horizon, a band started by seniors Peters, Michael Larson and Conor Murphy, (who graduated last year) are competing in the Battle of the Bands concert at Stillwater Area High School once again.  Being the winners of last year's Battle of the Bands, they know what to prepare for this year.
With Murphy off at college, there will be one change to the band's makeup this year.  Senior Tyler Malmberg will be taking over bass, which leaves Larson on drums and Peters playing guitar and singing.
"I recently joined Crimson Horizon this summer after Conor went away.  I love it, it's so cool and it's a lot of fun to work with those guys.  I've actually been fanboying over the band for a few years now and then Colin asked me to be the bassist," said Malmberg.
For their performances, Crimson Horizon is a high school band that is unique in writing their own songs.
"We do mostly original songs when we perform; we have a lot of original material.  Most of our shows aren't at the high school, but when we do perform at the high school, we'll do some covers as well so that the audience is familiar with the songs they're hearing.  We've played a couple times at a bar in Minneapolis called The Red Sea, we've done a wedding, we played at the Log Jam Days in downtown, so we do more than just Battle of the Bands" said Peters.
When it comes to writing their original music, Peters does most of the writing with some help from the rest of the band.
"Colin will write most of the song and I will creatively mastermind my own drum pieces to add to what Colin has written. We will be in my basement playing music and Colin will play some riff that we all like and we'll join in and then he puts lyrics to it," said Larson.
Though the band is currently very locally successful, none of the band members have any aspirations to make Crimson Horizon anything more than a local legend.
"
We're probably going to stay pretty local, I believe, but Colin was talking about some possible future opportunities for the band. Like the State Fair."
— Tyler Malmberg
"We're probably going to stay pretty local, I believe, but Colin was talking about some possible future opportunities for the band.  Like the State Fair" said Malmberg.
To make their performances at the high school more interesting for the audience, Crimson Horizon will go to Goodwill before the show and pick out the most ridiculous outfits they can.  Last year at the Pops concert Peters wore a kimono type dress, Larson wore a "grandpa sweater" and Murphy wore rain gear. However, the crazy outfits do not distract from the band's real talent.  Many people of all ages enjoy Crimson Horizon's shows at the high school.
"Last year at the Pops concert, they played a cover of a song by Rage Against the Machine and everyone, even the parents, got really into it. Which is kind of surprising because it's a hard rock song.  Everyone was going crazy, even the parents," said senior Kalley Sobczak.  "Crimson Horizon gets really into it too; it's not just the audience.  That was the best performance at any Pops concert I had ever been to."
While Crimson Horizon is on stage, everyone can see that they have a passion for what they are doing.  Each and every member of the band loves what he is doing while performing.
"What makes it great is the passion they have for what they're doing," said Sobczak.
About the Writer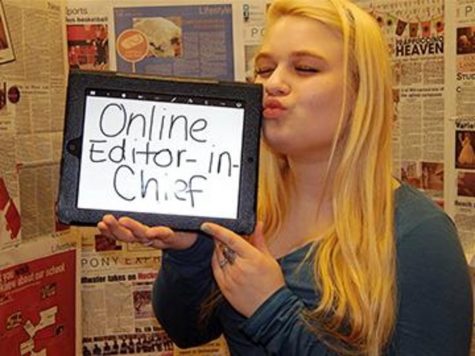 Hannah Crawford, Online Editor in Chief
Graduating senior, Hannah Crawford is as busy as can be.  She expresses her love for journalism through The Pony Express, acting as the Online Editor-in-Chief....