Consumerism destroys true meaning of Christmas
The idea of Christmas has drifted far from its true meaning and roots. It has turned into a cultural holiday of consumerism and materialism rather than its religious significance. The fact the religious ties to Christmas are often dismissed and replaced by the beliefs of spending and shopping in America is a problem that must be resolved.
The Merriam-Webster dictionary defines Christmas as, "A Christian holiday that is celebrated on Dec. 25 in honor of the birth of Jesus Christ or the period of time that comes before and after this holiday."

Loading ...

Globally, according to pewforum.org, only 31.5 percent of people characterize themselves as part of a Christian branch and nearly 16.3 percent of the world population claim to be unaffiliated with any religion at all.

So this raises the question of why do those who are not affiliated with any religion choose to participate in Christmas? Why not Hanukah, Kwanzaa or another holiday belonging to another religion? This is where the American characteristic of greed and material wants comes into play.

According to the National Retail Federation, the average person celebrating Christmas will spend $804.42, up nearly five percent over last year's $767.27.

Sure, even if one is a Christian and buying gifts to rejoice the son of God's birth, the personal care, love and appreciation are taken out of the gift. internetretailer.com stated 91 percent of people intend on making their purchases through a mobile app this holiday season. This takes the meaning and consideration out of the gift itself.

The idea of giving gifts for this Christian holiday originated when the three wise men brought three gifts to the Virgin Mary to celebrate the birth of Jesus Christ. Now people exchange gifts in hopes of receiving one in return and it is a rather selfish matter.

All blame cannot be put on the common atheist, but some can be placed upon media: commercials, movies, books, etc. The idea of Santa Claus was one of the first traits that began to steal the true meaning of Christmas as it began to commercialize.

Ever since the 1920s, the Coca-Cola company has commercialized the figure of Santa Claus by using him in advertisements. The company even went as far as changing the look of him from a man in a robe to a man in a jolly, red suit, according to their website.

Churches see record numbers on holiday weekends such as Christmas and Easter and often double normal congregation sizes, according to TC times. Churches make most of their yearly earnings from holidays alone.

It is wonderful for people to grow their faith on major holidays and attend church, but imagine if churches had these congregation sizes year-round and the money they could raise. This would be money that goes back into the community to help those who are less fortunate and reach even farther to those who need help world-wide.

According to Huffington Post, in 2013, 90 percent of Americans took part in Christmas, but only half actually saw it as a religious holiday. The other half views Christmas as a cultural celebration.

Christmas time brings with it spirit and the enjoyment of family and friends which makes it understandable that people would want to celebrate the festive celebration. But, when beaten down to brass tacks, Christmas is truly a religious matter. It marks the day of Jesus' birth and deserves to forever strictly be the celebration thereof and the freedoms God brought to the Christian community through this birth.

It would be beneficial if atheists, or the non-Christians that celebrate Christmas, would at least attempt to take a look at the origin of the Christmas holiday and then they could potentially see the miraculous manner of it, and celebrate appropriately, for the Christian community is a welcoming and open one. If non-Christians evaluate Christmas' true origin, choose to ignore it and still want to celebrate a holiday around this time, then they should create a new holiday with no religious affiliation, so those who want the true meaning of Christmas to be conserved can achieve this wish without the mocking nature of modern-day consumerism.
About the Writer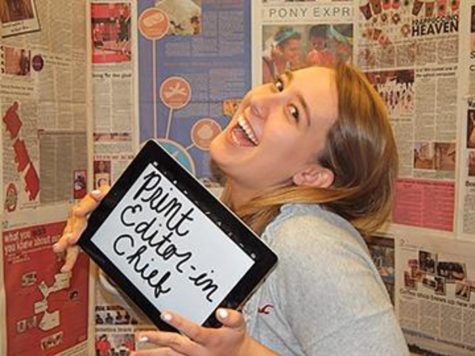 Jessica Thomas, Print Editor-in-Chief
As an upcoming graduate in the 2015 school year, Jessica Thomas is taking advantage of every opportunity thrown at her. Jessica is an active employee at...