GOP staffer resigns after insolent comments to Obama's daughters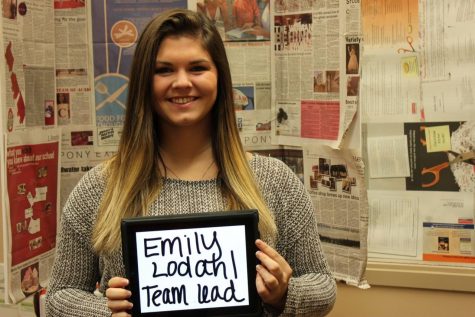 More stories from Emily Lodahl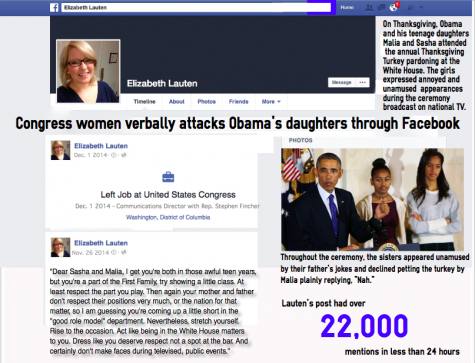 A Republican spokeswoman's comments about President Obama's daughters is causing a commotion online. Elizabeth Lauten,  a Republican aide, made an offensive Facebook post about President Obama's daughters on Nov. 27. Obama made the annual turkey pardon ceremony at the White House on Nov. 26 and his daughters were beside him, wearing sweaters, skirts and knee high socks. The spokeswoman criticized the girls' dress and said they shouldn't roll their eyes at their dad according to CNN.
Lauten's comments were offensive and disrespectful. She took the situation too far, which ultimately made her resign on Dec. 1. The Facebook comments that created a media firestorm asked for the Obama girls to "show more class" during the annual event.
"Dear Sasha and Malia: I get you're both in those awful teen years, but you're a part of the First Family, try showing a little class. At least respect the part you play," Lauten wrote in a post on Facebook, which was later taken down according to USA Today.
While Obama's daughters should have acted more respectful to their father, especially because they were on television, it is understandable that they appeared to be bored. They are just two teenage girls, 13 and 16 years old. Most teenagers do not even watch the turkey pardon on television, let alone have to stand there throughout the ceremony. 

Loading ...
Lauten added, "Rise to the occasion. Act like being in the White House matters to you. Dress like you deserve respect, not a spot at a bar," NBC News reports.
First of all, Lauten was very out of hand to say that Obama's daughters were dressed for the bar, which is a really unnecessary analogy for underage girls. Second, those comments are inappropriate even to say in a civilized conversation, let alone to the President's kids.
Dianna Reese from the Washington Post wrote, "Neither of the Obama daughters showed cleavage at the turkey pardoning. They both wore long sleeves. Yes, their skirts were short. Malia wore dark tights with hers."
Teenagers are dressing more poorly. Just go to a mall or any high school and see that Obama's daughters were being conservative with their clothing. Their clothes that they were wearing are in style and every kid wants to dress in style.
"When I first posted on Facebook I reacted to an article and I quickly judged the two young ladies in a way that I would never have wanted to be judged myself as a teenager," Lauten wrote. "After many hours of prayer, talking to my parents, and re-reading my words online I can see more clearly just how hurtful my words were," NPR reported.
Lauten would not have apologized if it did not cost her job. She realized how bad she embarrassed herself and the people around her and took action with the apology. It seemed more like a half-hearted attempt to show that she is a good person on the inside.
"In the best tradition of the GOP's long-running personal assault on the nation's first black president, Lauten — the communications director for Rep. Stephen Fincher, R-Tenn. — turned the children's appearance at the ceremony into an opportunity to bash Obama. What she wrote, understandably, caused a lot of people to demand that Fincher fire Lauten," wrote USA Today's DeWayne Wickham.
Lauten took this occasion to take action and use it against Obama. She is a Republican and a very opinionated one, too. "Attacks on the children of presidents are nothing new. But the attack on the Obama daughters – both minors – was pernicious and undoubtedly political," reported USA Today.
Lauten was in the wrong to make those comments about Obama's daughters. She should have thought twice before saying anything, and especially posting it on social media. Next time she should keep her comments to herself, unless she was actually trying to get fired.
About the Writer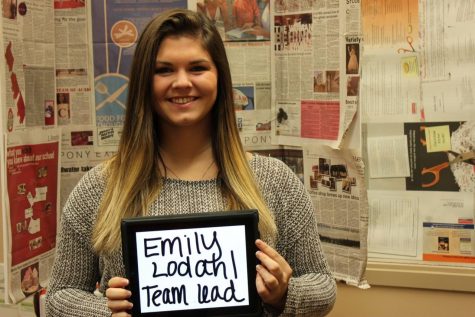 Emily Lodahl, Team Lead Editor
Emily Lodahl is a senior team lead editor for the Pony Express. She has been in newspaper since eleventh grade and loves every minute of it. She has played...