Speech team comes out screaming
Katie Hutton and Madie Woltman
Some people in this world find it fun to stand up in front of a bunch of other people and speak their mind. They speak their opinion without caring what anyone else has to say about what they think. However, most of us would rather hide under our beds before we do that and pretend that we do not exist so we do not have to say what we think. The members of the Speech Team would be proud to say that they are the few who can speak their mind. One has to have a lot of courage to do what they do.
The Speech Team season began this year on Dec. 10, 2014. The first team meeting was that day in Speech coach Laura Hammond-Laux's Room lead by the senior captains, Alaina Friedrich, Cora Sutherland, Alex Screaton and Holly Fena. They have invited many other sophomores, juniors and seniors to join them to learn about what the Speech Team will be like this year. During the meeting they discussed the categories, commitment and being part of the speech team. From there on out the team meets every Wednesday and Saturday for tournaments.
Speech and debate seem to be very similar forms of public speaking, but they are not. Speech is more of a theatrical form of speaking while debate is argumentative. The members that are in debate often sign up for the speech team. The personalities between these two groups of people often differ.
Hammond-Laux said, "There is a broad spectrum of students who do speech, because some students are persuading their audiences that we should take troops into West Africa to help with Ebola, and then we have other students who performed in a 'Midsummer's Night Dream'."
Alaina Friedrich participates in many major school clubs and events. With her speaking, she likes to be more free flowing and powerful.
Friedrich said,"I love the creative freedom of speech, but debate is really fun and I love thinking on the spot. Honestly I like to talk. I don't care who's watching. Obama could be an observer and I would be just as crazy or serious."
There are many different categories that team members can participate in. One set of categories is focused on Public Address. Public Address categories include discussion, extemporaneous speaking, great speeches, informational and original oratory.
Hammond-Laux said, "Genarally students will choose one category, and then compete in the category with that same paper all year, so that they can become better at that piece."
Last year senior Cora Sutherland choose a category in Public Address. She choose great speeches, and focused on a speech given by Theodore Roosevelt.
Sutherland said,"One reason I liked doing the category great speeches is, because I kind of get a chance to speak how I think the original speaker would've given the speech."
Speech Team members put in a lot of time to preparing for a tournament. They meet Wednesday to organize, plan and write. Saturday they wake up early and head off to school to get on the bus that will take them to a tournament.
Sutherland said,"The worst part of speech is that it ends up being a really long day, because of the award ceremony at the end of each tournament. I'm willing to wake up early on Saturdays for speech, but it's hard to leave the house when it's dark and not get home until it's dark again."
Being on the Speech Team takes dedication and the ability to speech your mind. These students take what they do seriously, but not too serious to not have fun.
About the Contributor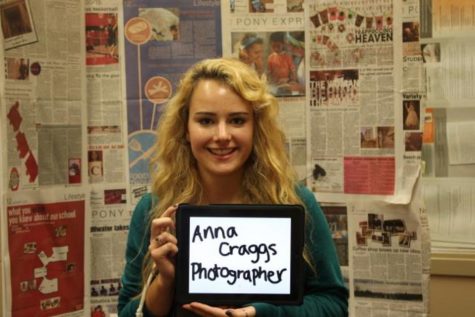 Anna Craggs, Photographer
Anna is a Junior at Stillwater Area High School, also a Photographer on the Pony Express Newspaper. She spends time figure skating, and is currently working...