Better connections through social media
Click here, ring there, tweet here, comment there. There's a reason the 1.79 billion utilized social networking accounts worldwide. Nearly three-quarters of teens are able to access Internet from any sort of technology in the United States. Due to this, social media is arguably the most important means communications. But this does not just apply to teenagers. The elderly side of the population is gradually supporting social media. Not only can life be in the fast lane with the help of social media, but, includes diverse benefits across the board.
Exploring the benefits of social media can explain to those who do not own an account, why it is so important to a countless number of people. Not only has social media let communications occur between two people, but many. Describing life through the typing of words allows people to create healthy and long-lasting relationships, while maintaining ones they have already formed. For students, social media is put to use in ways inside and out of the classroom. Teachers have started to improve teaching strategies thanks to social media. On the other hand, sports have exploded in popularity due to parents, coaches, captains and players spreading information. Also, keeping sports participants informed and aware of upcoming events. In other words, social media helps the world go 'round.
Coach and starter of the Stillwater girls lacrosse program, Rick Reidt, loves using social media for multiple aspects of the game. Parents and players will always be informed via his team Facebook page. To his advantage, he can ensure that all members are on board schedule wise. Not only the current team is connected, though. He, along with alumni and team friends, engage in their own Facebook page to keep them informed of the current team, and to catch up with each other as their hectic lives progress.
"Social media provides an effective way to facilitate communication between coaches, team members and parents," said Reidt.
Senior captain of the lacrosse and alpine team, Ashley Ludack also supports social media for this purpose. Social media has helped her with the leadership process and in her involvement with National Honors Society every step of the way.
"It's nice because when you have a big team like the lacrosse team or ski team, you can get a message out quickly and know it will reach everyone," said Ludack.
Schedules are posted, but an extraordinary support system for all members is an added bonus. Everyone on the page is included, and every added member can post. But, the team is not just lacrosse-focused. Athletes, especially this team, tend to dominate not only on the field, but in other areas like school, and in their community. Leaders are brought into the spotlight due to athletics. And as leaders, they love to connect and support each other in everything they do, whether lacrosse-related or not.
Reidt said, "This page provides recognition for team members and team alumni for achievement both related to lacrosse and in other areas."
In order to have a successful team, Reidt believes in improving himself first in order to profoundly improve his team. He has a few sports icons who have helped him improve his coaching each and every day. Once again, thanks to social media. He also actively stays in touch with other coaches to receive words of wisdom, and through internet and social media sources.
"I find value in the educational aspect of some Facebook posts. For example, I receive regular posts from several coaching education organizations that provide useful information that help me improve my coaching skills and generate ideas that can help improve our team".
Reidt immediately posts these enlightening articles and visuals to this page to help share his findings with his members. Also, he uses his Facebook personally to keep in touch with family and friends. Taking in everything he can, he enjoys seeing what others post and learning from them. He believes changes comes from visual experiences, but not always from tangibles.
"A lot of positive and useful information is disseminated on social media. I believe people change and improve based on the people they meet and by what they read. Social media can be an effective way to receive positive and useful information to learn from others."
Agreeing with Reidt, Ludack said, "Also, social media exposed me to issues and different opinions I may not have been exposed to otherwise, which I think is really important for my growth in character."
Off the field and slopes, Ludack also enjoys social media to keep in touch with people, even with her strenuous schedule. Never wanting to miss a beat, Ludack can be constantly included in what all of her loved ones are doing with the push of a button.
"I love social media because it allows me to be connected with people I may not see everyday. I think everyone likes to stay in the loop, and social media makes that possible," said Ludack.
But, there are some differences between the different accounts out there. Twitter, Instagram and Facebook are in the lead for most popular. Since each have particular benefits, people are convinced to have more than one account. Instagram is more visual by posting pictures, and Twitter and Facebook are a combination of pictures with words that go along with them.
Ludack said, "I think Twitter or Instagram are the most popular amongst our generation because kids like to share small pieces of their lives or what they're doing and they both allow for that. I would say Facebook is more popular for generations older than ours because it focuses more on staying connected with family and friends, which they are more concerned with."
But social media does not only have benefits for sports and entertainment, but for school as well. English teacher Katherine Barre has considered using some in her classroom.
"I know it may have benefits in the classroom, but I have not used it," said Barre.
She thought of making giving students the opportunity to make Facebook pages for characters in the books she teaches, to help students analyze characters and remember specific characteristics about them.
Another positive from the classroom is that some students send text messages or use tweets sent to them reminders for things like assignment due dates, tests and quizzes. From a student perspective, this will help them tremendously when the homework and life load become full.
Ludack said, "I have had a few classes that use Twitter to send out reminders. That's really nice because with the busy schedules students have, those little reminders are really important."
Social media has been created in a positive way to only benefit people in ways they can chose. People have filled their schedules with so many events that sometimes it is hard to communicate face to face. Social media has allowed people to come together and maintain their relationships no matter what distance. Also, in sports and other activities, social media has made it possible to keep life organized, so anyone can accomplish anything they put their minds to. And in education, the use of social media is not very high, but will increase more as teachers determine more ways to help their students learn.
"As well as I have seen and experienced the disadvantages of communicating via social media, that is enough to teach me when its appropriate to use social media, and when I need to pick up the phone and call someone, or put down my device and pay attention to my surroundings," said Ludack.
About the Writer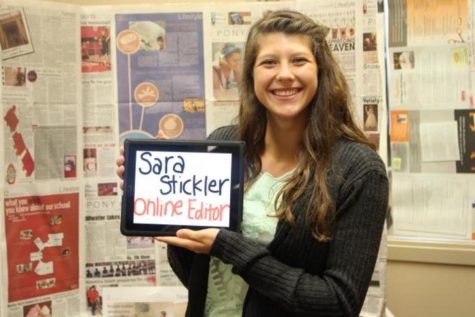 Sara Stickler, Online Editor
Sara has many activities and interests incorporated into her life. She has a variety of passions, making her life very busy. One of her biggest interests,...