Michelle Obama stepping outside her boundaries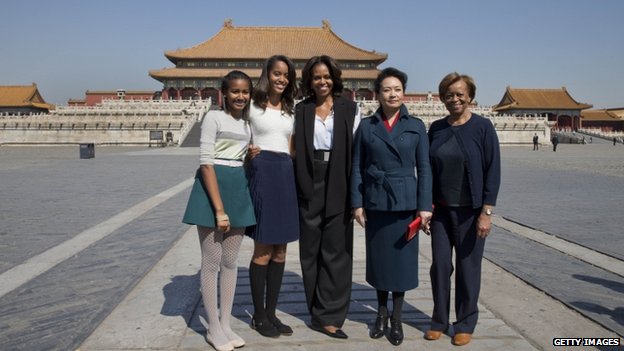 Being a first lady comes with its set of duties. Usually that consists of choosing a public issue and advocating for it. The current first lady has been breaking that mold and taking it a little too far.
Michelle Obama took a recent trip to China. Mrs. Obama turned what was supposed to be a spring break vacation with her mother and daughters into a political stunt. On top of that, a former White House press aide wrote an exposing article on what it is really like to work for the seemingly sweet and picturesque first lady.
Mrs. Obama was always the perfect, cookie cutter first lady. She took on problems like childhood obesity and healthy eating. She was a great advocate for both and used her resources excellently. Up until about a month ago she was effectively helping with problems the United States needed to solve. Now she is crossing lines into political territory. No one quite knows if she is crazy or brilliant. No matter what side people are on, it is easy to see the job is better suited for her husband.
The vacation that Mrs. Obama took her daughters and mom on became something else when she first expressed her beliefs beyond healthful eating and fitness. She went to high schools and spoke about the opportunities and freedom that Americans have. "Twice in four days Mrs. Obama spoke openly about free expression and minority rights — messages that resonate in a society where the Internet is censored and the central government ruthlessly represses Tibetans and other ethnic minorities," said Jane Perlez on The New York Times. Essentially scrutinizingly the Chinese government is not beneficial for foreign affairs ever, and especially not now. Trade relations between China and the United States  have gotten tense lately and the first lady causing this commotion only adds to the bitterness of the situation.
A female president in office could have the potential of turning the country around. Female and male leaders are very different and a change is due if the United States wants to make some long lasting and much needed progress. Mrs. Obama seems to understand this and wants to be a political figure that helps the country in the only way she can, but her time and tactics are all wrong. A recent article published by a former aide of hers is making the United States think she is not suited for any political role in the country.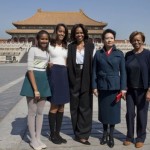 Mrs. Obama is described as a hassle to work with and her leadership abilities are less than adequate. American's want a leader that is likable and trustworthy, polls are showing this as recent ones have showed a spike in unfavorable votes for Mrs. Obama's recent decisions. The article, written by the former White House press aide, Reid Charlin on newrepublic.com said, "The first lady's office can be a confining, frustrating, even miserable place to work. Jealousy and discontentment have festered, as courtiers squabble over the allocation of responsibility and access to Mrs. Obama, both of which can be aggravatingly scarce. Fueling these sentiments, according to former East Wing insiders, is the exacting but often ambivalent leadership style of the first lady herself."
When it comes to public issues, Mrs. Obama excels, but her stepping into political ground as far as she did was a bad move. The combination of her decision to openly speak about public policies in China and the behind the scenes look her former staff member gave has left a bad taste in many American's mouths. Mrs. Obama is highly capable of more than just picking out what china to use for a fancy dinner, but she is not yet adequate to take over for her husband.