Girls hockey selects new head coach
The girls hockey team has appointed a new head coach, Annie Cashman for the 22-23 season and beyond.
The team's previous coach resigned over the summer, and the program had to swiftly fill the position before the season began. Cashman was one of many candidates for the job but was ultimately the only one selected. She has previous experience playing hockey at Sacred Heart University as well as Gustavus Adolphus. Her coaching experience includes coaching high school hockey in North Dakota, as well as coaching youth hockey here.
She is coming into a team that has been successful the past few seasons. This year will be no different as they hope to prove themselves as one of the best in the state.
With this previous success comes the pressure to continue to succeed.
"Our girls come in with a lot of talent this year. So the expectations will be high. I think she has the ability to challenge and I think she'll keep that going without any hiccups along the way," Athletic Director Ricky Michel said.
The Pony girls hockey team has a tight bond and a strong community to back them up. Cashman will continue to foster and support these girls so that they can be the best version of possible.
Cashman is very grateful for this position and the people she gets to be alongside.
"I'm most excited about being able to give back to the community that's been so great to me. I'm really excited about being able to teach the girls to have pride in such a great sport," she said.
With this new leadership, comes new ideas for the team, which means the players will need to learn and adapt. This will be beneficial to the girls, in the long run, especially those who will play for new coaches in the future at higher levels.
"She really brings her side to stuff on things we've never had different sides on. She wants us to do things a completely different way, but it makes total sense," junior Brooke Nelson said.
One of her main focuses for the team is to have a more student-athlete approach. She knows that in order for the girls to be strong players, they must be successful both on and off the ice.
She wants the girls to see that there is more to life than just hockey. Cashman said she hopes that "hockey can be a vehicle to help learn how to be a more rounded person" because although "hockey is really important, it's not the most important thing. It's just a part of something that they are, it's not who they are."
Cashman also hopes to keep older girls in the program for longer, while making sure younger girls get more experience. This year, she chose to not accept any freshmen, and she sent them back down to the U15 program so they could play in more games.
Michel agreed with this style and sees it as beneficial to everyone.
"I think she has everybody to think of, and I think she'll meet the needs of everybody," Michel said.
This change brings new beginnings and a hopefully successful future to the girl's hockey team.
Leave a Comment
About the Contributor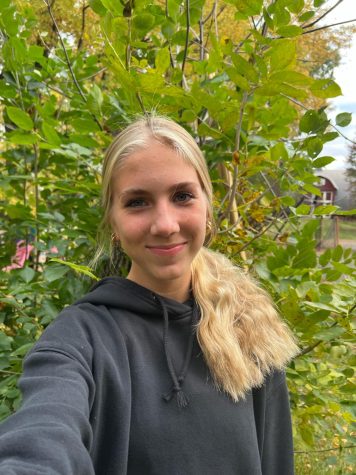 Kayly Richert, Podcast and Distribution Reporter
Hi! My name is Kayly Richert, I am a junior, and I am a podcast and distribution reporter. I am a part of NHS and enjoy volunteering. I love to spend time...