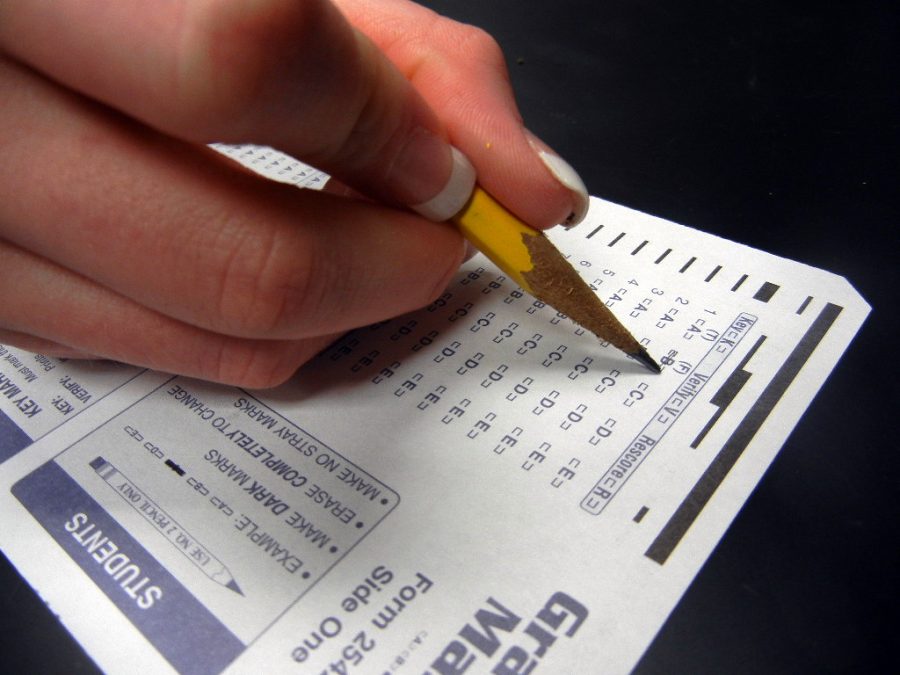 Creative Commons image from Flickr by biologycorner
ACT tests should not be required for college admissions
December 3, 2022
High school students wonder if it is still worth their time and money to take college readiness exams, such as the ACT and SAT. This is because colleges across the nation are becoming test-optional, including many state schools. The ACT should not be needed to be accepted into higher level schools.
Many colleges are temporarily waiving test requirements for future semesters or dropping the requirement entirely. Over 1,800 schools no longer requige applicants to submit test scores, becoming either test-optional or test-blind. This shift is partially due to the COVID-19 pandemic, when many students were unable to take their standardized tests for multiple reasons.
The ACT does not properly predict college readiness and success. A student's GPA and transcript are stronger predictors of college grades than standardized tests. The ACT will only test a student on their knowledge of math, science and English, not their ability to problem solve or use critical thinking. Adding the ACT to a high school record will not give a large impact on admission predictions.
"Do you have the GPA, the skills to say that you're college ready?" school counselor Sydney Piras said. "There's more factors that are part of this conversation than just taking the ACT."
The ACT and other standardized tests cater to middle-class white students. Many tests rely on background knowledge usually held by middle-class white students. The testing industry uses these biased questions in order to create a wider range of scores.
"There's going to be a stronger correlation between performance on the ACT white male affluence," Liam McClellan, senior debate captain, explained. "Specifically because privilege exists within that area."
Standardized tests only show what students are good test takers. Scores are influenced by outside factors such as hunger, tiredness and stress. Scores may falter if a student is hungry and tired as they may be unable to properly focus. Students that can overcome these factors will do well on tests, while other students have scores that will suffer.
Junior Mallory Otsuka said that the ACT "doesn't measure how much you know, it just measures how good you are at working under pressure and answering questions quickly instead of correctly."
The ACT does not cover all of a school's curriculum, which makes it difficult for a score to measure the knowledge of every student. Students will study things that will not end up on the test, and have lower scores. Others will learn to the test, ignoring information that is not part of the ACT.
When talking about the logistics of the ACT, McClellan said, "What the ACT tests on currently makes up only 60% of Minnesota state standards for our education system."
Many students do not have the same opportunities as others. Some will be able to take time to study or pay for a tutor. Other students are busy with jobs or their home life, and may get lower scores as a result. Some students will have less opportunities than others, and their scores will differ due to this gap in opportunity.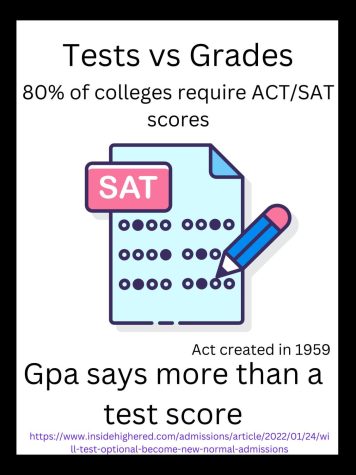 Piras explained that certain students have access to expensive tutoring services, but other students do not have the same level of access to them. She asked if it was a fair tool to use to judge students.
The ACT website lists multiple reasons for why students should take the test. The website also has different PDF files with reasons to take the test. One of their listed reasons is that the ACT is reliable and consistent. The ACT was created in 1959 and is used for college admissions. Millions of students take the ACT every year, and every university in the country accepts scores for admissions. Standardized tests give colleges a way to compare applicants and a basic idea of a student's academic abilities.
Standardized tests such as the ACT do not properly predict college readiness or properly cover school curriculum. Students should not have to sit through the ACT if they are not in the right headspace. These scores should not affect if a student gets accepted to a specific school. The ACT is an unfair measure of knowledge, and students should not have to take this test to attend a higher level college.