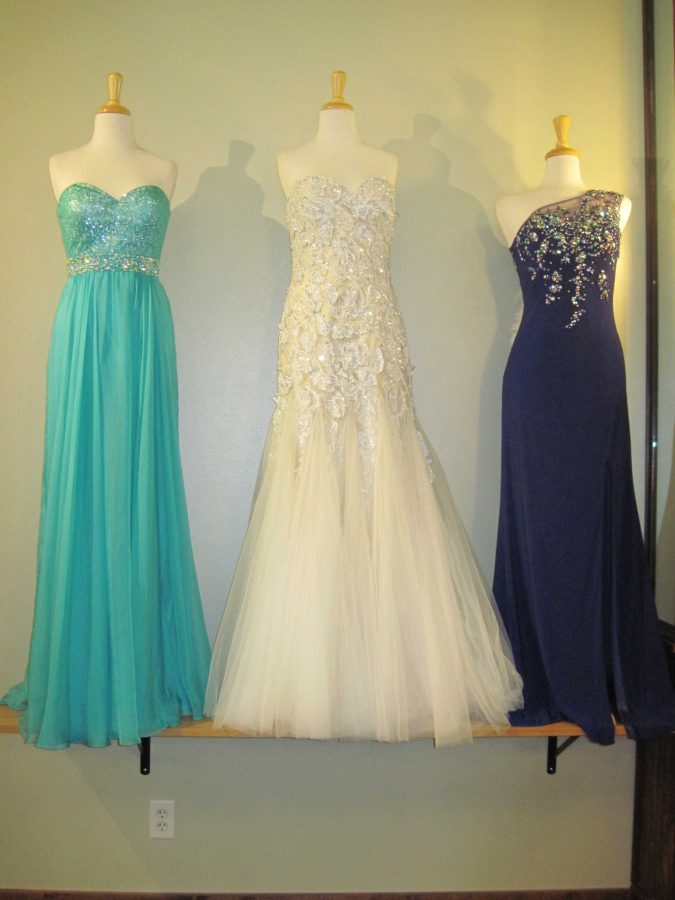 Photo by Madison Engstrum
An event long awaited for by many throughout each school year. An annual party for all with glitz and glamour all mixed within. Prom season is hectic and a costly but one thing that is on everyone's mind is what they are going to wear. Prom attendees are doing everything they can to dress to impress.
 Senior and Our Shop employee Franchesca Weber said, "Prom is a really busy time for us here at Our Shop. We are located right in the heart of Main Street in downtown Stillwater. Girls and their moms, friends, dates etc. come to our store with one goal in mind. To find the perfect prom dress and we will do everything we can to make sure they do not leave empty handed."
The fad for the past few years has been either something tight or sparkly and even both all in one. With so many different style varieties to choose from, there is always so many beautiful dresses strutting their way into the prom.
Junior Rachel Hartwig said, "I think prom attire is really fun to shop for. I loved all the different options and styles I had to choose from while in the market for a dress. I really felt I could portray my personal style and personality in whatever dress I ended up choosing."
Many girls not only at Stillwater Area High School but at other schools as well have started lending, borrowing and buying used dresses from one another opposed to buying their own brand new full priced gown.
Junior Georgia Eger said, "Last year for my sophomore prom I went out and bought a brand new dress which I really liked because it was solely my dress and only I had ever worn it. But, this year I decided to buy my prom dress from a senior girl who was selling her dress from last year. I got a really great deal on it and it is very pretty. It saved a lot of time, stress and money doing it that way."
Girls in all grades at SAHS are apart of a Facebook page called "SAHS Prom Dresses 2014" where girls are posting pictures of the dress they bought, the dress they're maybe trying to sell or even rent.
"I think the Facebook page is super helpful. It's fun to see all the gorgeous dresses everyone is buying and it also helps to make sure there are no duplicate dresses. Also, the Facebook page is where I found the girl who was selling her dress that I ended up buying," said Eger.
As important as the gowns are for the ladies, the gentlemen have shopping to do as well.
Junior Andrew Lammers said, "I'm getting my tux from Savvi. I want to look as dapper as possible. Maybe even portray some Gatsby style into my getup. Also, I think it's important to color compliment your date, even if you absolutely hate pink."
With prom just around the corner dresses are being bought and shared, invited being presented and plans being made. Do not forget, it's not who you go with to the prom, it's what you wear.