Sophia Roskoski tied for first in Minnesota for pole vaulting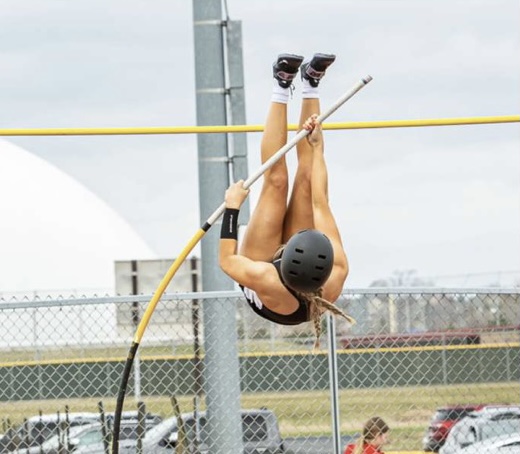 Whoosh! The air swishes past junior Sophia Roskoski as she vaults 11'6″ to tie for first place in Minnesota. Sophia has proven to be a standout on the girls track team and is definitely someone to look out for as the season progresses. She joined the team last year and quickly found her love for pole vaulting.
Sophia joined the track team her sophomore year with no intent to be a pole vaulter. It was not until she talked to her coach about competing that she considered this event. Joining the sport so late is challenging for many, for Sophia however, it has not created the same setbacks.
"When people are pole vaulters they have done it their whole life so it
was really hard joining so late but I got into it really fast and everyone was super surprised," Sophia said.
Sophia is preparing to be a competitive athlete this season. She is tied for first in the state right now, but does not plan to stay there. She hopes to be the only one holding the first place ranking.
Sophia explained her main goal for this season is to win state. She hopes to clear a high of 12'6″ by state and is currently clearing 11'6″.
The energy of the track team has allowed Sophia to continue to improve and has encouraged her success. Athletes on the team are always positive and create a fun and inclusive environment. Athletes are rewarded with a colored bead that they can keep on their shoelaces when they have shown hard work and positive energy. Sophia has earned five beads so far this season.
"Everyone has a lot of energy. It was never like that in the gymnastics world. Everyone's always super positive at track so that helps a lot," Sophia said.
Sophia motivates others around her to continue to improve and is a role model for other vaulters on the team. She keeps her energy up and is always working hard to continue to improve.
Sophia would not be where she is today if it were not for her drive and determination. She sets high expectations for herself and is always working to help reach them. Sophia works in and out of practice to continue to train and improve.
"She goes to St. Croix acceleration. We have a gymnastics club so she was a gymnast her whole life and she does a lot of training there for pole vaulting," Sophia's mom, Laurie Roskoski said. "She gets up at 5:30 every morning to go and lift weights at the workout gym. I think it's her drive, attention to detail, and discipline."
Sophia got hip surgery earlier this year to fix a tear in her hip. She has experienced major benefits from this surgery, despite the six-month recovery process she had to go through. In the grand scheme of her athletic career, this has proven to be a minor setback for major rewards.
"I tore my hip like two years ago and I was always just super weak after it. I couldn't run very fast. I couldn't do anything very well," Sophia explained. "I actually recovered a little bit faster than they told me I would and now my hip is stronger than it's ever been. It's so much easier to do anything now."
Training has looked a little bit different this year due to the weather. Since it has been so cold, they are often training in the gym. Since all the mats are kept outside, this makes it hard for the pole vaulters to practice and significantly limits the amount of practice they get prior to meet days.
The usual practice schedule includes Monday to Friday after school and sometimes Saturday mornings. This year "the weather has not been cooperating" so it is altering that slightly Wait said.
Sophia will continue to train as the end of the season approaches. She will compete in section finals on June 2 and then will hopefully compete in the state tournament on June 10 and 11.
Leave a Comment
About the Writer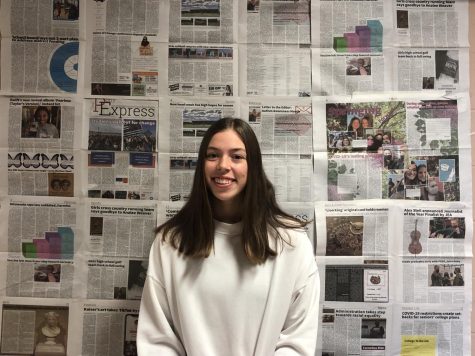 Lauren Guinee, Business Editor and Copy Editor
My name is Lauren Guinee and I am a junior. I am a business editor and copy editor for the Pony Express. I am on the synchronized swimming team and I also...