Boys baseball opens season with long-standing members
The boys baseball team has returned for another season, with minor variations to the team dynamic. Rather than having a few designated captains, the team decided to have no captains and instead combine the leadership of all 18 seniors. Coaches and players believe that this strategy will be more useful in the long run, and they are optimistic that it will improve the upcoming season.
"I think having 18 lead seniors as captains will improve the team dynamic, considering that it hasn't caused any feud and I can see it helping us deal with adversities better and ultimately win more games," Austin Buck senior infield player said.
A total of 40 boys are trying out for the team this year. Off-season preparations took place during captains' practices, which began in November. This year, the boys had the opportunity to go by bus to Omaha, NE for tryouts on March 24. The squad values its opportunity to travel in order to strengthen team bonds, appear professional, and have fun. Traveling, according to sophomore pitcher Alex Boston, has been a tremendous learning experience for him and has given him an idea of what he wants to achieve with this sport in the future.
"I've traveled to a lot of different areas to play, and it's been a great learning experience for me," Boston said.
Stillwater boys' baseball head coach Micheal Parker coaches his 24th season. Parker values his connection to the athletes and sport. Parker has been a math teacher at SAHS since 1996 and his coaching style is centered not only on-field success but also on academic success for the players. Coaching baseball has given Parker a chance to get to know his students in a different way than in the classroom.
"I really look forward to watching our group of seniors play and have fun this year because I've been watching them since they were in second grade and they're a bunch of great human beings that are all really good friends, so I'm excited to see how our underclassmen jive from them and learn from them," Parker said.
Last season the team recorded 20 victories and five losses in the Suburban East Conference. The Ponies won their sections and advanced to the Class 4A state tournament. They were defeated in the first round by the Minnetonka.
The majority of team members have known each other since childhood through baseball and their team chemistry is solid.
"I think our number one strength is that our team chemistry is really good and other teams will have more college committed players and talent, but I think that aspect of our team is gonna be better," Parker said.
It's critical to make the most of this season because, for many seniors, it will be their last. Senior Mason Buck, will continue his baseball career at St. Olaf College next year. He is excited to play with his senior teammates one final time and to have an impact on the juniors and underclassmen.
"I'm excited to play with the seniors, and because we've been playing together for so long, it'll be our final season together, but we train hard and want to beat all of these teams, and the satisfaction of accomplishing so is what I look forward to most as well as the possibility of going to the state tournament and that is really the major goal," Mason said.
Under the direction of their team coaches and captains, as well as their personal dedication and commitment to attaining team goals, the boy's baseball team will be ready for the season. Their next scheduled game is on April 15 vs. Forest Lake.
Leave a Comment
About the Contributor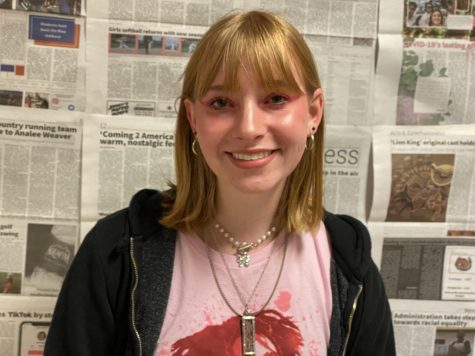 Cambrie Cole, Photographer and Public Relations Editor
My name is Cambrie Cole and I'm a photographer and Public Relations Editor for the Ponyexpress Newspaper. Currently, I am in 11th grade and enjoy exploring...