'Turning Red' releases on Disney+
"Turning Red" is an animated film that came out on March 1 on Disney+. It was directed by Domee Shi, the first Asian woman to direct a Pixar feature-length film. The film's cast includes Rosalie Chang as Mei Lee and Sandra Oh as her mother.
Mei is a 13-year-old Chinese girl living in Toronto with her mom Ming Lee and her dad Jin Lee. The movie is set in 2002, and follows her journey as a teenager in middle school. She tries to live life with her friends, while still being a perfect daughter for her overprotective mother. The film is praised for its representation of Asian culture as well as its openness to puberty and the struggles of adolescence. However, there are criticisms that follow.
Viewers of the movie have been spreading their opinions online and on social media, and many have said Mei's struggle with puberty is "inappropriate" and her "boy crazy" phase sets a bad example for young girls. There are angry parents who believe the movie encourages children to be rude and disobedient to their parents. Others believe it's not that deep, and that it shows parents should let loose and children should be themselves.
"I think it is a really good movie for young girls to look upon. I think it should be normalized for young girls, even at the age of nine or ten, to learn about puberty and all that stuff because it shouldn't be considered like a bad thing. There's also that aspect of your parents are afraid of you growing up, but she was able to still have this good bond with her friends, while also maintaining a relationship with her mom. And so, in that aspect, I think all girls should watch it and should enjoy it," senior Mackenzie Vang, ASU member said.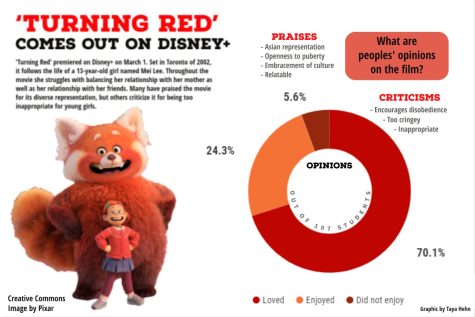 In the beginning of the movie, it starts off with Mei saying, "Honoring your parents sounds great, but if you take it too far, you may just forget to honor yourself." This shows the intention was not to make children disobedient, but to show them that it is okay to branch off as they get older, and they are their own person.
"In early Disney movies that young girls looked up to, many were about a princess falling in love with a prince. "Turning Red", however, includes real life problems. There's family drama and relatable scenarios for all races and ethnicities," junior Courtney Rodd said.
Not only have the movie's relatable characteristics been praised, but its Asian representation has been as well. "Turning Red" is Pixar's first full-length feature film with an Asian protagonist, and many say it is about time.
"I found a representation of myself within the scenes of the movie. For Asian people as a whole, I would say a lot of us found "Turning Red" as one of the most accurate depictions of ourselves at that age. The confusion of puberty and the craziness of balancing family and school, it was something all of us could relate to," senior Jay Lohr, ASU public relations officer said.
"
It allows Asians like me to see ourselves on the screen. To be able to see yourself reflected in a character that looks like you, goes through the same thing you do, and acts like you. Many people get lost when they don't see themselves in the media. We need this representation because we want to be seen."
— Jay Lohr
Even with all of the positive and negative opinions, it is known that "Turning Red" shares a strong message. The main twist of the movie is Mei's shapeshifting abilities; but it is not voluntary. Whenever Mei feels a strong emotion, she turns into a large red panda, a symbol that represents her ancestor Sun Yi, a warrior who provided the women of Mei's family their panda forms. Mei's panda incorporates her stages of puberty but also her roots and background into the film.
"I think it represents her heritage, and it also presents her growing up. Near the end of the movie, she finally learns how to appreciate that side of her, like her culture and her history, while she also learns how to adapt and grow up," Vang said.
Mei learns to accept her panda form, and she "finally takes charge of her life and her decisions," Lohr said.
"Turning Red" is meant to normalize the experience of puberty and encourage the embracement of one's culture. It shares the importance of friendship, but also the meaning of family and how children and teens shouldn't have to constantly put pressure onto themselves.
Even with its criticisms, 'Turning Red' received a 95% on Rotten Tomatoes, and fans share their love and support for the film.
View Comments (1)
About the Contributor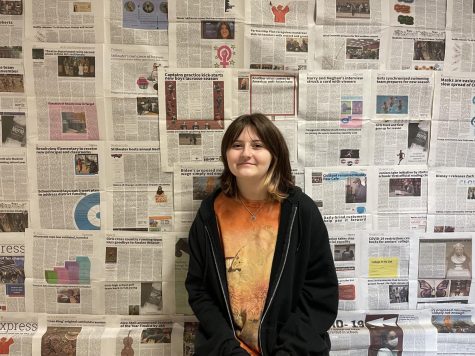 Taya Hehn, Photography Editor and Copy Editor
My name is Taya Hehn and I am in 11th grade. I am a photography editor and a copy editor. I'm not in any clubs or sports, but I do really enjoy art and...