Russia's invasion of Ukraine disrupts global economy
The global economy has been slowly recovering from the COVID-19 pandemic. Russia's invasion of Ukraine has caused inflation and supply chain issues. The impact of the invasion has created a ripple effect in the economy. Since the United States is closely tied with European trade markets, what effects the European economy will effect the United States as well.
"Our world is a global economy. If it [Russia's invasion of Ukraine] significantly impacts Europe, it could affect the United States," Economics teacher Beau Labore said. 
Impact on the Global Economy
The goal of European governments and the Biden administration is to punish Russia for the unprovoked invasion of Ukraine. They have done so by issuing economic sanctions. Sanctions are penalties used to punish a country economically, politically, or militarily. In this case, Russia is being punished by multiple countries, including the United States who has ended trade relations. The sanctions placed on Russia have caused their stock market to close and the value of their currency to plummet.
"We have purposely designed these sanctions to maximize a long-term impact on Russia, and to minimize impact on the United States and our allies," President Joe Biden said in an interview with NBC News.
When it comes to the global supply chain Russia is a large producer and exporter of many essential products. With the global supply chain already affected by the COVID-19 pandemic, interruptions from Russia's exports will further slow shipping globally. According to the BP International Food Policy Institute, Russia produces more than 75% of the world's sunflower oil, 14% of the world's wheat supply and 12% of the world's oil.
Although our economy is going to take a hit from these worldwide disruptions, "We should do what we can to stop Russia," junior Henry Hietpas said.
"
It is going to take a lot of time before we really see the impact of these actions."
— Economics teacher Beau Labore
Impact on the United State's Economy
The United States' economy has been specifically impacted by inflation. The most noticeable inflation in the United States has been gas prices. The rise in inflation came from multiple factors, the most prominent being the Biden Administration's decision to end trade with Russia.
Junior Maurice Kolodny said the price of gas has been an issue for not only himself but his parents and other people he knows.
The Biden Administration has made its goal clear, to punish and isolate Russia. The House of Representatives passed legislation (414-17) to ban imports of Russian oil and energy products. Another step that has been taken to punish Russia is ending "normal" trade relations. This includes removing Russia's title as a "Most Favored Nation" which allowed them to be exempt from tariffs. Tariffs are a tax placed on imported and exported goods. Additionally, the United States has banned Russian imports of diamonds, seafood and vodka.
"It is going to take a lot of time before we really see the impact of these actions," Labore said.
How long will the economic impact last?
While sanctions are a powerful tool now to use against Russia, overtime they can cost a country money and loss of resources. The economic sanctions placed against Russia are the largest and most impactful to ever be placed. The sanctions applied to Russia by the United Kingdom are predicted to last up to ten years and will cause the country to lose money as they will not be importing oil from Russia, their top supplier. While in the United States, there has been little talk of ending sanctions against Russia anytime soon.
"Taking the moral high ground isn't always the cheapest thing to do," Kolodny said. 
View Comments (4)
About the Contributor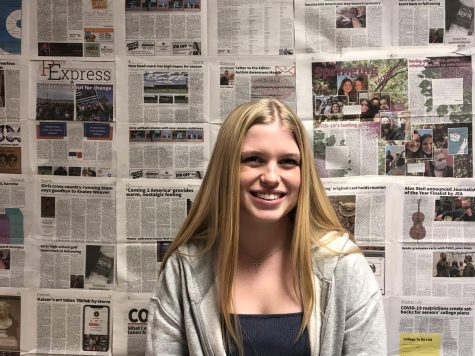 Evelyn Biederman, Photographer and Online Editor
I am Evelyn Biederman. I'm in my junior year and am a photographer and online editor for the Pony Express. I am apart of NHS and outside of school I enjoy...