Potter, Foote named National Merit semifinalists
"I really just want to be successful and find a way to make a difference in the community," senior Hunter Potter said. 
National Merit Semifinalists Hunter Potter and senior Adeline Foote work diligently to earn their place in a scholarship competition. The two have worked hard throughout their high school career to get to where they are now. Potter believes it is important to take the generals so he can focus on what he specifically wants to do. Foote has her generals done and is now doing PSEO at the University of Minnesota focusing on computers.
Approximately 7,500 students are awarded the National Merit Scholarship. Upwards of 1.5 million students start in the competition whittling down to 16,000 by the semifinalists. The scholarship ranges anywhere from $2,000 to $8,000 with the average being a one-time scholarship of $2,500.
"They bring a unique curiosity and a drive to be the best that they can be," coach Ryan Miller said.
Potter and Foote both thought that being named a National Merit was cool, but they both do not think it is their biggest accomplishment. To be named a National Merit scholar means that they both have really good grades of 3.5 or higher. They also have to do really well on their ACT. But Potter and Foote have bigger accomplishments in mind.
"For me, it's not one of the things that you might get recognition for." Instead, Foote takes pride in the accomplishments of her hard work and doing things that she loves.
Outside of academics, both Potter and Foote have their own different hobbies. Potter is a varsity cross country runner who has made it to state. He also takes a lot of pride in his teammates and how successful they are.
Potter says he is very proud of how far all of his teammates have gone and how far they will go.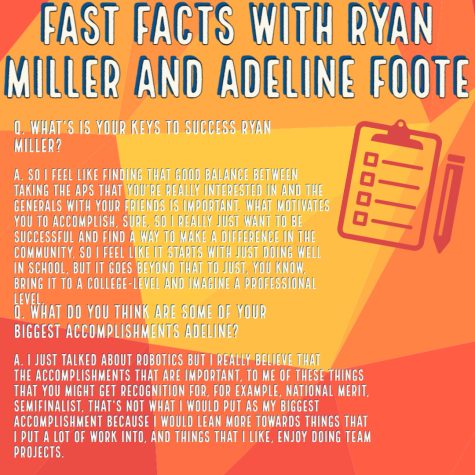 Foote is captain of the robotics team. She is currently building a 3 ft' robot and programming it to do all sorts of things. Last year, she competed in a NASA exploration rover challenge. Both of them have won awards in their extracurriculars as well.
"It's more like those things [robotics] that are being forced for accomplishments just because of the amount of work that we put into them," Foote said.
Both are also great leaders and excel with self-motivation. Foote has turned the robotics team from having hardly anyone to a now thriving club. Hunter made it from sectionals to state in cross country and thinks we did well at both.
"Our robotic team was really a mess, and she pretty much resurrected the whole thing," senior Claire Abbott said.
After the competition is over, Potter and Foote do not know where to go to college. However, they both have an idea of what they want to do when they grow up. Potter would like to help people in the medical field. Foote would like to continue her path in technology as a computer scientist.
View Comments (9)
About the Contributor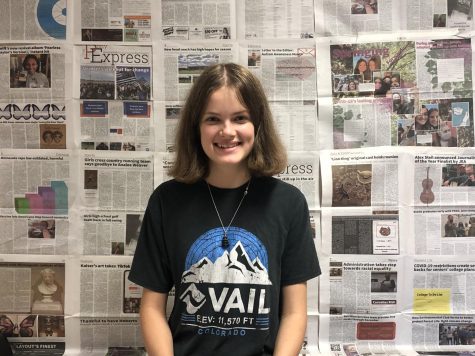 Isabelle Knighton, Layout Editor
I am Isabelle Knighton, a junior, and I am a layout editor for the Pony Express. I am in band and pep band, I also do technical theatre. I enjoy hanging...