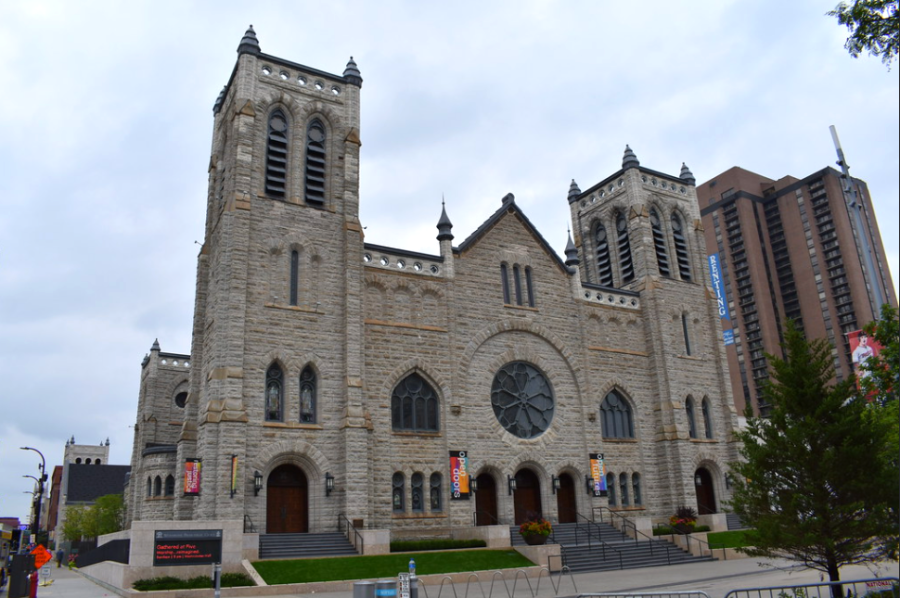 Creative Commons image through Flickr by JeromeG111
Concert Choir works one-on-one with Cantus
Voices spilled across the room, ranging from the melody of a soprano to the hum of a baritone. Choir director Angela Mitchell gently waved her hands in the air, keeping the choir on beat. Cantus members swayed in the chairs, enjoying the beautiful music the students were creating.
Since Oct. 2021, the Concert Choir worked one-on-one with Cantus, a professional men's choir. Cantus was a full-time ensemble that performed not only across the state but the nation as well. They came into the high school and provided feedback to the students and offered vocal exercises. The students learned new skills and became better musicians.
Cantus had a grant writing process, Mitchell explained, where they were contracted to outreach to schools to host clinics with students.
Originally from Minneapolis-St. Paul, Cantus was a full-time chamber ensemble group. The group worked together to create music without a conductor to lead them. They performed a range of music from the Renaissance to the 21st century. Cantus did both national and international tours, performing more than 60 concerts a year. The ensemble had a goal of creating and expanding music made for tenor, baritone and bass singers. 
"It's one of only two professional paid men's choirs in the whole world," Mitchell said.
Every clinic, a few members of Cantus came into the high school to work one-on-one with the students. Members listened to a few pieces the choir was working on, taking notes along the way. After, they gave their opinions on what should be fixed or could be added to the pieces. At times, they dived into deep detail about a particular piece and offered vocal exercises to help them improve. 
Senior vice president Gavin Browning explained how he only had female conductors. Having a male voice come in and guide him helped him become a better singer.
Students soaked up bundles of information about musicianship with their time with Cantus. They have learned new warm-up exercises and tone exercises to help them improve as singers along with working on other skills. Cantus specifically worked on phrasing and building tension within those phrases. Phrasing allowed the piece to push forward or move back in certain areas, giving it more emotional impact. 
Junior choir member Mason Borchardt explained how Cantus used the "metaphor of pulling a fireman's rope to build tension" then letting go.
Outside of high school, there were not many opportunities to sing with a professional ensemble. Cantus, however, inspired students to look into singing as a potential career. Senior choir member Sierra Penning was inspired by them since she followed Cantus on Instagram. She looked up to them as musicians and admired how they made something so enjoyable into a career. 
Penning explained how "they really inspire you to be individual" and to "be the best you can be and see how that makes you grow as an ensemble," truly "touched me in a way."
In the end, students were inspired by Cantus and learned many skills from them that they used for the rest of their singing career. The choir will do a joint performance with Armstrong High School at Westminster Presbyterian Church in Minneapolis on Feb. 26.