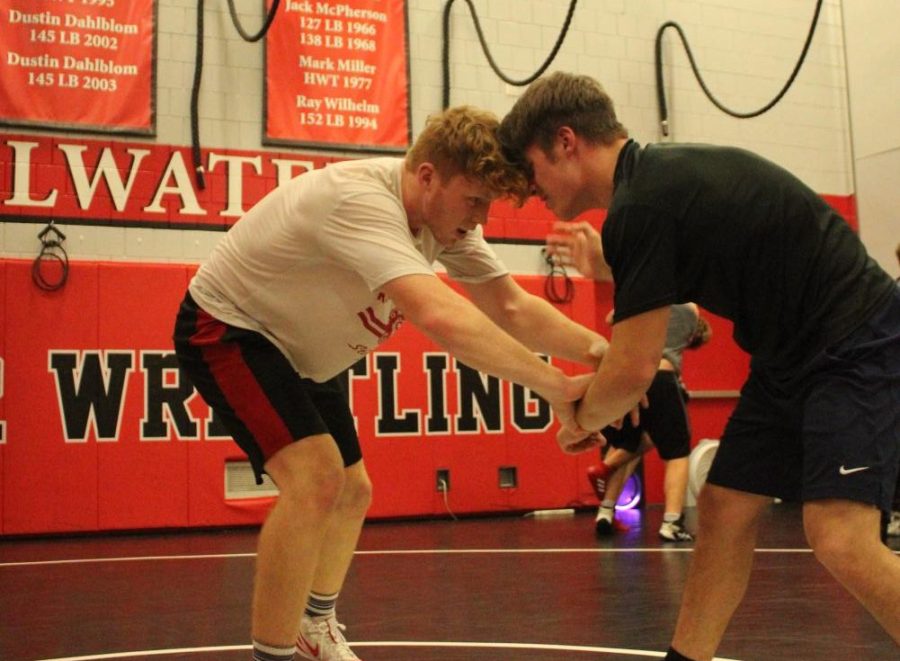 Ryder Rogotzke starts strong in new season
"He is a hard nosed kid and that's something you don't hear all the time anymore," varsity head coach Tim Hartung said. Wrestling teaches athletes to drive and push for what they want, as well as showcasing how hard work can lead to multiple successes.
Junior Ryder Rogotzke continues to show success in both the high school and club wrestling category. While he appeared at the state tournament multiple times, this past summer he exceeded expectations by winning gold at a world championship that took place in Budapest, Hungary.
"I just started wrestling, it was my first sport " Rogotzke explained. "It's been ten or 11 years."
Rogotzke started wrestling at a young age, never knowing how great he would become. Although wrestling was his first sport, he found success playing football as well. He was recently named honorable mention for All District players alongside his wrestling and football teammate, Zachariah Hunter.
"He's not scared of anything," Hartung said. "He's extremely physical, he never backs down from a challenge doesn't matter who he's wrestling he believes he's going to win."
"
He never backs down from a challenge, doesn't matter who he's wrestling he believes he's going to win."
— Varsity coach Tim Hartung
Confidence is key in all sports, the reason that Rogotzke is so good at what he does is because he uses his confidence as a benefit to himself to help him continue winning. Along with executing his confidence in a positive way, he continues to give 110% all the time, no matter the circumstances. His hard work and dedication does not go unnoticed.
Rogotzke finds time to balance both wrestling and school. He explained how he will do his homework after practice and how ninety percent of his time during the season is taken towards wrestling.
Like most high school students, it is important for there to be balance between sports, school, and a social life. People, including Rogotzke are dedicated to a sport where they can combine their social life with a sport. Everyday at practice he is surrounded by uplifting teammates and friends that encourage each other to be the best.
Senior Zachariah Hunter shared how Rogotzke is a good teammate because "he pushes everyone to be the absolute best that they can be every day." Hartung added on how "not only is he a super successful athlete for us, he's brought other guys around him to another level, which is special."
Motivation is a huge part in any sport. It takes a certain type of person to not only be able to motivate themself let alone help motivate a whole team. Although wrestling is an individual sport on the mat, off the mat it's a completely different situation. There is a team who is there to cheer and celebrate successes.
Hartung explained how the team has been "knocking on the door to win a state championship." The team's goal as a whole is wanting to win a state championship and individuals such as Ryder expressed how his goals for this season would be to "go undefeated and win state."
Not only has Rogotzke remained successful as an individual, the wrestling program continues every year to showcase their strong athletes. Although matches throughout the season are equally as crucial, the state tournament remains the most important for the team.
The future holds a lot for Rogotzke and Hartung agrees, "It's great to see a guy that has really put in the time like he has to get to the level that he has, and I know his aspirations are to do even bigger things in college and in the Olympics."