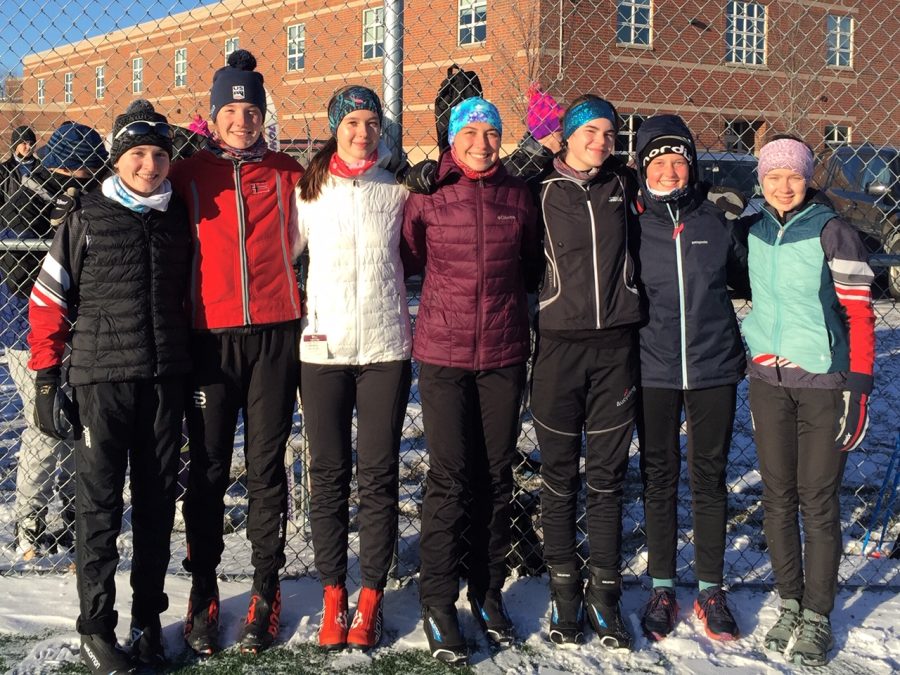 Photo by Abby Thibodeau
Nordic coach Torry Kraftson returned to lead the team in their workout on Nov. 15. This marked his first practice as head coach for both boys and girls varsity teams.
Kraftson began coaching after he saw a job post for the position. He coached the boys team from 2006 until 2017 before deciding to step back. He returned as head coach this year and is looking forward to working with both varsity teams.
Kraftson explained he was greatly influenced by some of his coaches. "I was inspired by the impact that those coaches had on my life…I really just had a strong desire after having taken and learned so much from the sport to be able to give back," he said.
The teams practice six days a week at Lake Elmo Park Reserve, Sunfish Hills Park, William O'Brien State Park and the high school. Early season practices consist of roller skiing, running and strength training.
"You're using probably almost every muscle group you can imagine, like I get sore in places that I didn't even know could be sore," senior captain Margaret Swenson explained.
While nordic races have been postponed due to the lack of snow, the team has found ways to continue improving. The team visited a site with man-made snow and held a running race to prepare members for the season.
"It can be hard to train for a winter sport, especially skiing, when you don't have snow," junior Charlie Johnson said.
Another way some students have prepared is through summer camps and clubs. These give athletes the opportunity to continue training year round.
"It's very evident that a lot of the girls have been doing a lot of that kind of work throughout the summer because they're looking really good on their roller skis," Kraftson said.
When races begin, how often skiers race and what types of races they compete in depend on which team they belong to. Each skier will race in a classical style and a skate ski event throughout the course of the season. Additionally, these races can require participants to ski up to 10 kilometers in a day.
"It can be intimidating to take on a five kilometer ski, especially if you don't know how to ski, but doing that, and persevering through it and finishing, can really teach you how to be a better person just through hard work," Johnson explained.
Due to the variety of training these teams participate in, team captains and volunteer coaches stepped up to keep track of logistics. The team has five paid coaches and 32 community volunteers to make sure the season runs smoothly.
Kraftson said many of the volunteer coaches are past or current parents, alumni, and people who live in the area that want to help.
Another focus this year is to boost the team dynamic and encourage the mixing of ages and teams.  To do so, teams are combined for training and Friday practices are led by captains.
"I think it's really fun just to see people grow as a team because there's not a lot of high school sports that are seventh through 12th grade," Swenson said.
Johnson is excited for the season, "I'm just looking forward to racing and getting some snow here," he said.