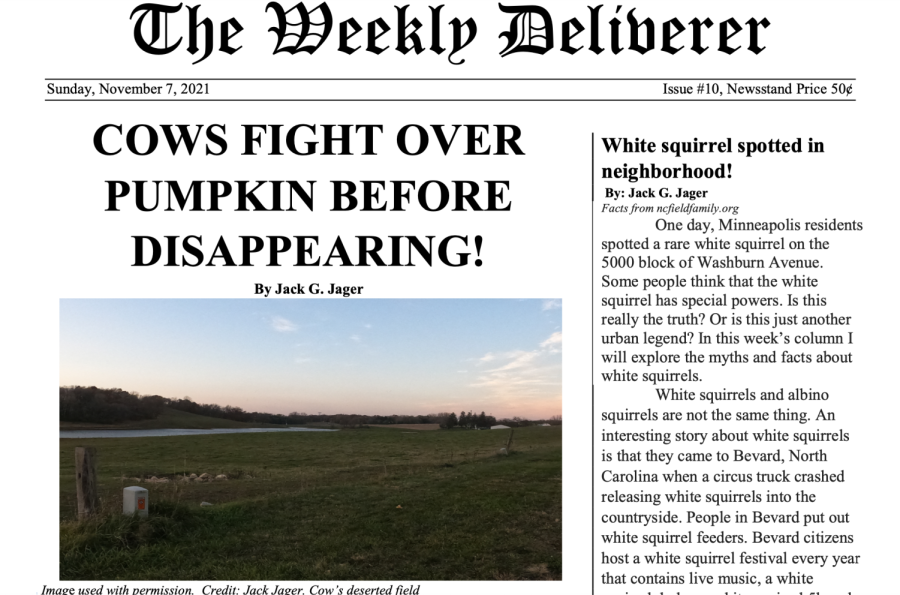 Photo by Mikai Tasch
As fifth grader Jack Jager typed away, he thought about the progress of his newspaper. He knew that the most recent issue is not like the first. Jack decided to create his own newspaper in late September. His newspaper has pleased many of his family members, teachers, friends and neighbors.​
On Sept. 22, the day the power went out, cars were backed up for miles on Highway 36 because the Lake Elmo Avenue stoplight was not working and the Hudson library suffered huge damage. Because schools were closed that day, there was no schoolwork for Jack to do; he decided to create his own newspaper.
Jack explained because the thunderstorm shut down a vast number of power grids, the stoplights were not functioning. Because the stoplights were not working and traffic was heavily backed up, similar to the intersection of Lake Elmo Avenue and Highway 36, school was not held.

Jack wanted to create his newspaper because of an event from Diary of a Wimpy Kid: Cabin Fever. In part of this book, Greg Heffley and Rowley Jefferson created their own newspaper when they were at a cabin for the holidays. Jack chose the title The Weekly Deliverer because he wanted to come out with a new issue at least once a week.
Jack was "about to go to sleep and it was almost midnight." He was reading Diary of a Wimpy Kid: Cabin Fever and got motivation from the newspaper Greg and Rowley created in this.
The creation of The Weekly Deliverer can not be done with just one person. Jack has three main people that help produce his newspaper. The Weekly Deliverer Executive Board consists of Jack's brothers and his math teacher John Tasch. Jack Jager is the Layout Editor, Charles Jager is the Graphics Editor, Ben Jager is the Photography Editor and John Tasch is the Copy Editor.
Ben explained he wanted to be a Photography Editor because he "likes taking photos of animals like squirrels."
The Weekly Deliverer is a newspaper that is world renowned for its prestigious graphics. Not only do Jack's neighbors and teachers read his newspaper, but his cousins in London read it too.
"There are family members, friends, neighbors and teachers who read The Weekly Deliverer. These people are from Minnesota, North Dakota, Wisconsin and England," Charles said.
Newspapers in general are a great way to improve reading and writing skills. They hold very powerful information that is fun to read and keep people informed on current events.
"I think the writing can be incredibly powerful because it has information to it, but it is in a compacted form and written at a level that everybody can understand," Kyle Davis, Jack's reading teacher, explained.
The Weekly Deliverer is a newspaper that features articles, comics, comments and much more. This newspaper, developed by Jack Jager, will surely have a great future with many more spectacular issues to come.