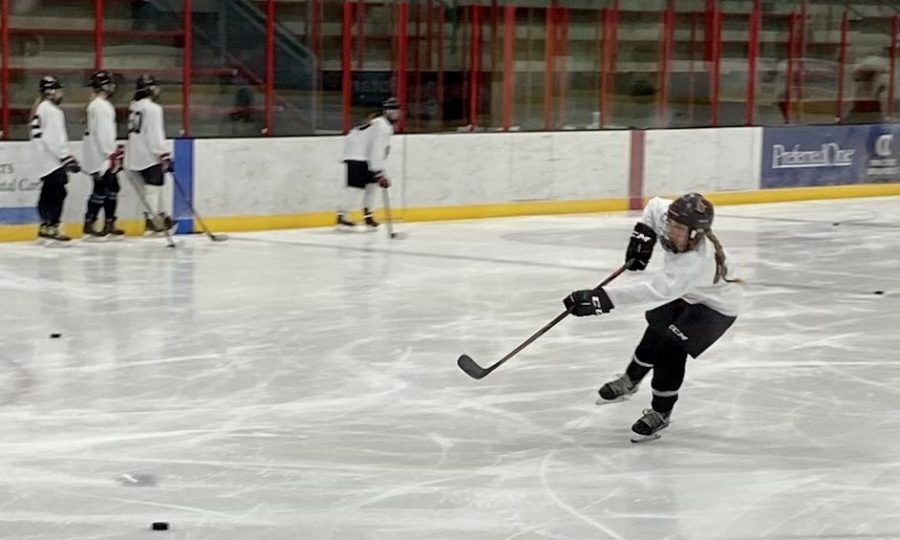 Photo by Isabelle Knighton
The girls hockey team is skating towards the start of their season. The girls are preparing to be a strong team this season. They are practicing for tryouts and have captain's practices on Fridays.
Girls hockey has started getting ready for the winter season. They have practices at 5:45 a.m. until tryouts. Tryouts were on Nov. 1 and 2 right after school. They also had an informational parent meeting on Nov. 3.
Many of the girls have differing opinions about the early morning practices. Some girls think it is a nice way to start their day, while others think it is difficult to get up. At 5:45 in the morning, most family members are not even awake yet; this requires girls to be self-sufficient in getting ready for practice and the day ahead.
"It's sometimes fun having it in the morning and having the rest of the day to yourselves, and I think the team works best in the morning, then we do in the afternoon," junior Kylie Ligday said.
From having nothing last year, early morning practices are difficult for many. Many of the girls were not able to play hockey last year. COVID-19 had impacted how many girls could play and for how long they played. Last year was also a setback with girls not having as much practice. The girls did not have as much playing time, due to the month they had off last season, which impacted their performance.
"Last year, I wasn't able to play high school. Mostly just because they already had so many girls,"  sophomore Jonna Swanson said.
The other girls on the team are a motivator for a lot of girls, pushing each other to be their best. Family is also a big motivator for most girls to play hockey. A lot of girls had older siblings that played and led them to want to play as well.
Swanson said that when her two brothers started to play hockey it made her want to follow in their footsteps.
Captains help all girls improve their playing and be supporters of the team. Captain practices are a great way for girls to get more involved with the sport. The girls choose their most trusted upperclassmen to be captains. The captains then lead the girls in warmups and on Friday practices. They also help the girls get ready for the upcoming season.
Ligday said that the hockey team has leadership opportunities through captains. She said that they choose the girls they can trust and "who helps out the most, who's motivated."
The game is very important to many of the girls. Most girls will want to continue playing later in life and try to stay with the game.
"I always knew that I want to stay involved in the game, so that was a big thing for me," head coach Mira Jalouso said when asked why she wanted to coach.
The girls team will be ready for the winter season. With all the practice they already had they will be ahead of the competition. Their first game is on Nov. 12 ready to go.